Hyundai Warranty in BC - Your New Hyundai Warranty


COMPREHENSIVE LIMITED*
5 Year - 100,000KM
Covers nearly every new vehicle component.
Covers repair or replacement of any component manufactured or original installed by Hyundai that is defective in material or factory workmanship, under normal use and maintenance.
The following components covered for time and mileage limits indicated:
Radio and Sound Systems (i.e. radio, cassette tape drive mechanism, compact disk player, and GPS), DVD System: 3 years / 60,000 KM
Paint: 3 years / 60,000 KM
Battery: 2 years / 40,000 KM
Adjustments: 1 year / 20,000 KM
Refer to the Service Passport for complete details of Hyundai Warranties.
POWERTRAIN PROTECTION*
5 Year - 100,000KM

Covers most engine and transaxle components.
Covers repair or replacement of powertrain components (i.e. selected Engine / Transaxle, and 4WD components). originally manufactured or installed by Hyundai that are defective in material or factory workmanship. under normal use or maintenance.
BASIC EMISSIONS COVERAGE*
100,000KM
Hyundai's Emission System Warranty covers the basic emission components, unless otherwise specifically provided, for 60 months from Warranty Registration Date or 100,000 KM, whichever occurs first.

MAJOR EMISSIONS COVERAGE*
8 Year - 100,000KM
Covers repair or replacement of the following original Hyundai major emissions control components:
Catalytic Converter
Engine Control Module
Onboard Emissions Diagnostic Device (OBDII)
*Refer to the Service Passport for complete details of Hyundai Warranties.


Used Hyundai Free Warranty
How do we make buying a used vehicle a stress-free experience? It helps to know that we stand behind the quality and reliability of our product. Every pre-owned vehicle purchased from Campbell River Hyundai comes with 3 month/3000 km Warranty at no additional cost to you.
WHAT DOES THIS WARRANTY INCLUDE
Our 3 Month/3000 km warranty** comes with a miniscule $300 deductible, and covers:
Engine
Transmission
Transfer Case
Drive Axle
Seals & Gaskets
It's just one more way that Campbell River Hyundai makes buying a vehicle better for customers across Comox, Courtenay, Port Hardy, and Port McNeil.

PROFESSIONAL SERVICING
While every one of our used vehicles is carefully inspected prior to being placed on sale, they will eventually need basic maintenance. That's why you can trust the experts in our Service Department to take care of your new vehicle - regardless of its year, make, or model.

FIND YOUR NEXT VEHICLE
Ready to find your next car, truck, or SUV? Then explore our Used Inventory and shift through a massive selection of used Hyundais, Toyotas, Hondas, Fords, and much more! With this much selection, you're sure to find exactly what you're looking for.

**Warranty covers maximum $1250 per claim, $2500 max in claims per year
Price Match Guarantee



HOW IT WORKS:
Campbell River Hyundai will match any written price quote for a new vehicle purchase.
Step 1: Provide your written quote from any B.C Hyundai Dealership.
Step 2: We will verify the quote.
Step 3: We'll meet the presented price AND we'll send you home with $250 Cash! It's that simple
Find a lower price at a different Hyundai dealer? Bring us the quote and we will beat it - Guaranteed!
Here at Campbell River Hyundai, we know car buyers do not want to waste a lot of time shopping for a new car.
That is why we make the process fast and easy by providing an all-inclusive price right from the start!
No matter where you are coming from in British Columbia, Campbell River Hyundai is committed to offering the lowest price for any new Hyundai model. If you are given a lower quoted price from another dealership, please bring it to Campbell River Hyundai before you buy and we will beat it. We offer very easy access to Hyundai buyers in the surrounding areas such as Courtenay, Comox, Port Hardy, Nanaimo, Port Alberni. We deliver anywhere on Vancouver Island plus the Lower Mainland. It does not matter if you are located hours away in Victoria or Vancouver, if you are planning to buy a new Hyundai, make sure to come to Campbell River Hyundai for the best Hyundai prices in B.C.
Why Buy From Campbell River Hyundai?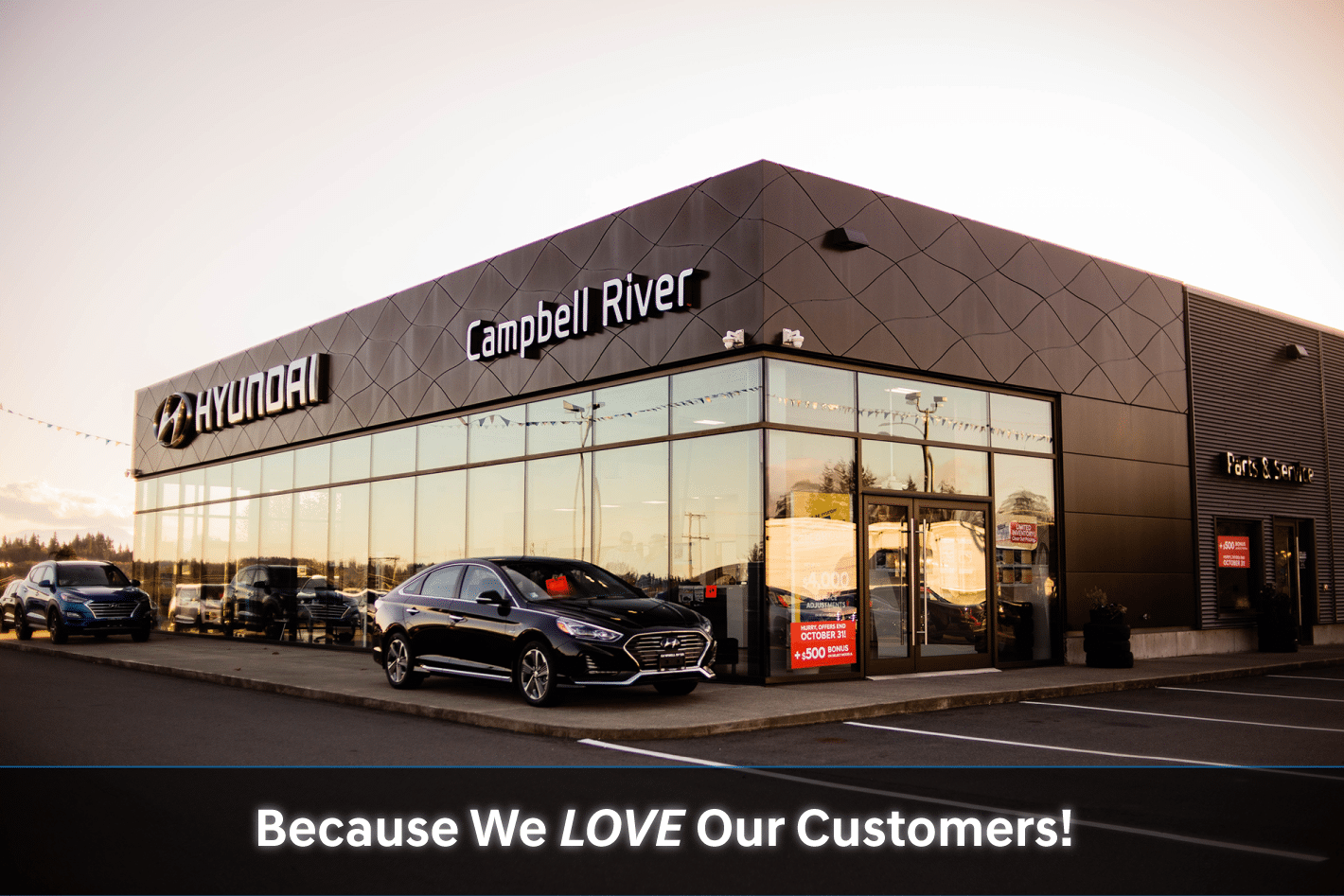 With more than 20 years of business experience behind us, Campbell River Hyundai is proud to be the premier Hyundai dealership in British Columbia.
As part of our dedication to our customers, we were also the first Hyundai facility in Canada to support the New Hyundai Corporate Branding store design.
Investing in our own community by using local trades to build our current state-of-the-art facility, we're located at 1853 Meredith Road in Campbell River – our central location is ideal for serving the surrounding communities we've been dedicated to for two decades.
When you visit us, you're working with a 100% locally owned and operated dealership, and we strive to support local charities and businesses.
We also pride ourselves with employing a friendly and knowledgeable staff who are more concerned with your satisfaction than simply making a sale.
Campbell River Hyundai also offers a wide selection of reliable used vehicles consisting of all makes and models – including award winning Hyundai SUVs and cars. Our Service Department is equipped to service all vehicles, not just Hyundai models, making us your go-to destination for world class parts and service.
Please feel completely welcome to come down and visit us anytime - you'll see for yourself the Campbell River Hyundai difference.