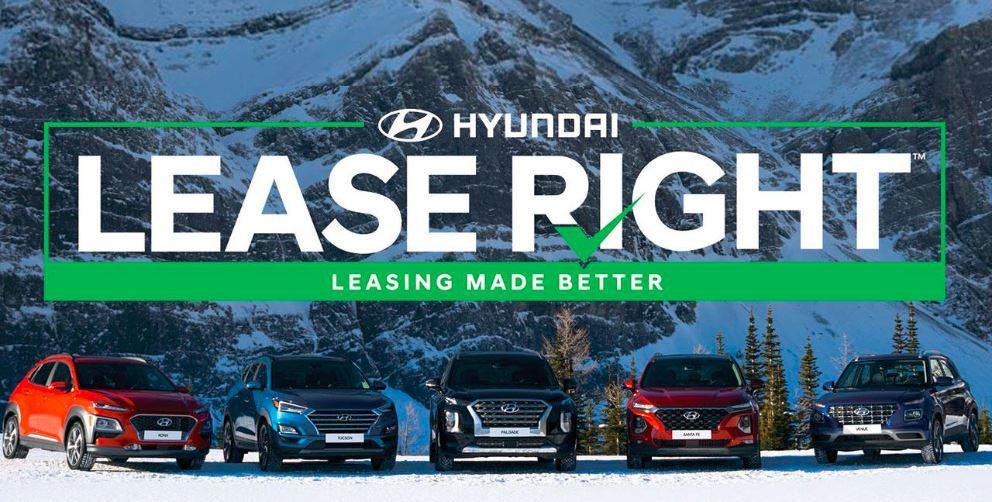 1The vehicle exchange privilege is valid beginning January 3, 2020 as part of the Hyundai LeaseRight™ promise. Customers who have purchased their vehicle prior to January 3, 2020 will not be eligible to participate in the program. Customers who have satisfied all terms and conditions to exchange their vehicle for another Hyundai brand vehicle within five (5) business days after delivery with up to a maximum of 750 kilometres ("km") on the odometer. A business day shall be defined as Monday to Friday. The first day shall be deemed to be the first business day after the vehicle delivery date. This program is subject to revision or cancellation at any time at Hyundai Canada's discretion. Vehicles must be leased from an authorized Hyundai Canada dealership and must have occurred delivery of the eligible vehicle. This program is included on all new Hyundai brand vehicles with the exception of following: models with government rebates; national and dealer fleet sales; courtesy cars, service loan cars; vehicles which were previously returned through this program; exchange vehicle which is the same model and trim; businesses, corporations, partnerships, dealer operating companies or related companies are not eligible customers. Applicable to new vehicles and vehicles registered as demos provided they have 100 km or less on the odometer at the time of delivery. This program can only be offered on leased transactions. Exchange vehicle must be different model, trim. Only natural persons (i.e. individuals) are eligible customers.
2The comparator data is provided under license from JATO Dynamics Limited. This information is provided for information purposes only for personal use and may not be used for any commercial purpose whatsoever without the prior written consent of JATO Dynamics Limited. Although the compare data is updated regularly, neither JATO Dynamics Limited nor Hyundai Auto Canada Corp. make any warranty or guarantee of any kind, express or implied, regarding the compare data, including without limitation any warranty regarding its currency, accuracy or completeness or any warranty of merchantability or fitness for particular purpose. All prices, specifications and equipment are subject to change without notice and should not be used or relied upon as a substitute for information that is available to you from your Hyundai dealer. Individual dealers are responsible for setting their own selling prices and may sell for less. Photographs may not reflect all features accurately. Pricing does not include any fees that may apply for vehicle colour choice. Vehicle colour choice may require certain options that may not be included in the options listed. Please contact your Hyundai dealers for complete details. Copyright © JATO Dynamics Limited, 1990–2020 All Rights Reserved. JATO and Hyundai Auto Canada Corp. have been diligent in providing accurate and complete information; however, JATO Hyundai Auto Canada Corp. does not warrant the accuracy or completeness of the data. Please use care in your use of the information provided.
3Available on select models only. BlueLink® includes 3 years of service without charge. The BlueLink® service is available for new vehicle purchases and leases subject to the BlueLink® subscription terms and conditions. Only use BlueLink® and corresponding devices when safe to do so. Cellular and GPS coverage is required. Features, specifications, and fees may vary by models and are subject to change. For more on details and limitations, visit hyundaicanada.com or your authorized Hyundai dealer.
4Customers who enroll in our excess kilometre waiver program at the inception of their lease are entitled to have charges for a limited number of excess kilometres at the end of their lease waived. This waiver is subject to a maximum of 200 excess kilometres per year of the term of the lease. Customers who surpass the 200 kilometres per year limit trigger standard overage charges reflecting the entire amount of excess kilometres on the vehicle at lease end. This waiver is applicable to all lease terminations at scheduled maturity and will also apply to early lease terminations on a prorated basis. The excess km waiver is not applicable to any extended lease, lease pay-outs, terminations due to an insurance event, or terminations as a result of a credit event. All other terms under the leasing contract remain in effect and all other payments thereunder must be paid when due.
††Hyundai's Comprehensive Limited Warranty coverage covers most vehicle components against defects in workmanship under normal use and maintenance conditions. Refer to the Service Passport for complete details of Hyundai Warranties.
™/® The Hyundai name, logos, product names, feature names, images and slogans are trademarks owned or licensed by Hyundai Auto Canada Corp.